PlymoVent's KUA in 160mm/6,25" is one of the the most flexible extraction arm on the market for welding fumes, gases and oilmist. All in all, the perfect solution technically, practically, economically and aesthetically. 2, 3 and 4m/7, 10 and 14' reach.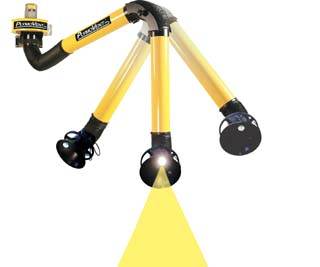 AT YOUR SERVICE
Unique to the KUA is the combination of inner and outer arm of smooth aluminium tubing connected by a our unique middle joint.

The external easy-to-adjust elbow joint, together with the spring-assisted joint supported in double ball-bearings, make manoeuvring of the arm a simple, one movement operation. When you move the arms - vertically and horizontally - you use PlymoVent's new, easy-to-reach ring handle.

You position the arm exactly where you want it, when you want it! The hood can be angled 110° in any direction, which makes anything possible!

The KUA can even reach above its own mounting height, and can be turned through 360°. It can be folded back and put to one side according to your needs. In other words, the KUA will follow you around the workplace smoothly and faithfully.


OFFERS YOU THE BEST
Another important feature is the construction of the KUA. The inner and outer arms are made of smooth aluminium tubing. This makes the arm more robust, allows better airflow and reduces the overall weight and noise level, even with large volumes of air going through. KUA combines quality with strength and has no equal!