The Top Grade Collection consists of a dedicatedtype of extraction arm and filtration system for different needs incritical manufacturing processes such as; material weighing, producttransferring, mixing, scouping, bag dumping and reactor charging. OurTop Grade Collection offers flexible extraction right at the source forsmall detailed laboratory work, as well as, high capacity long reacharms in stainless steel for production areas.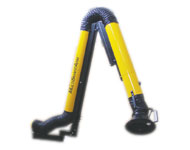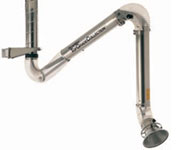 Extension brackets provide versatility for ceiling, wall or bench mounting. We offer a range of stainless steel fans from
1 400 m³ h/825 CFM to 6 000 m³ h/3 540 CFM airflow featuring a uniquedesign for efficiency and economy of operation. Our modular stainlesssteel cartridge filter system provides for any size of air cleaningsolution and versatile mobile unit filters air wherever needed. Tomatch demanding conditions all of our stainless products are made from316 Grade SS (DIN 1.4436, SIS 2343) with all flexible hose connectionsmeeting FDA requirements.
All PlymoVent products are manufactured to exacting CE standards,under the auspices of ISO 9001. Quality is not just measured by ourfinished product but also by our service and attitude towards ourcustomers.