United Air Specialists (UAS) is at the heart of our diversified product line, offering the industry's most advanced modular designs. All of their equipment is continuous duty, self-cleaning, and maintenance friendly. UAS finishes their equipment with top quality industrial paint.
Industrial Air Polution Control
CYCLONE DUST COLLECTORS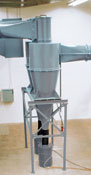 Operations like woodworking, fiberglass/plastic cutting, machining, grinding, buffing and polishing produce large, irregularly shaped particles.

Because these large, irregularly-shaped particles can clog a media type collector, the C Series is often used asa pre-cleaner for cartridge collectors to remove large particles and/or to prevent sparks from entering and incinerating a cartridge collector.

The high-efficiency C Series removes particulates from the air in your plant efficiently and economically.
How the C Series Works
Dirty air enters the unit at a high velocity, then is spun around the cone in a cyclonic motion which throws particles against the cone wall. As the cone narrows, the large particles spin into the hopper. Fine particles run back up through the center of the cyclone and are discharged through the outlet.
For applications like woodworking, where there will be both large and fine particles, we typically recommend an afterfilter on the unit, which consists of filter bags that will capture the fine particles before they are exhausted.
UAS C Series offers many benefits including:
500-hour salt spray rated paint system makes the C Series better resistant to indoor and outdoor weather wear.
Multiple standard dust storage options are available to meet your needs (e.g., 1 drum, 2 drums, 60 cubic ft hopper, 110 cubic ft hopper).
UAS offers rotary airlocks to constantly discharge dust from the throw-out bin into an external dust storage hopper.
UAS can customize your unit stand to provide whatever type of access you need at the outlet.

Depending on your safety requirements, UAS can provide sprinkler heads, explosion venting and aluminum fan wheels as fire suppression provisions.