Industrial Air Pollution Control
ESP MIST/FUME COLLECTORS — PORTABLE


Capture Pollutants at the Source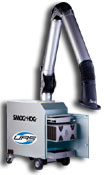 The PCN Series is a portable unit designed specifically to eliminate welding smoke and other metal oxide fumes in areas where:
large pick-up hoods are impractical.
smoke-producing machinery is used intermittently.
an employee moves from one work station to another.
Using electrostatic precipitator (ESP) technology, the PCN electrically charges microscopic contaminants, and then captures them like a magnet in an ESP collection cell. The source capture swing arm and parabolic-shaped hood are positioned directly over the smoke source to remove dangerous contaminants that can cause respiratory problems and create safety and maintenance concerns – a situation that can cost lost work time, workers' compensation costs and OSHA compliance violations.

Large, industrial wheels and convenient handles allow the PCN to easily glide from one work station to another, while locking casters keep the unit in place once it is positioned.

The PCN is an adaptable, efficient and easily maintained source capture system. The PCN also:
helps meet OSHA air quality standards.
reduces make-up air requirements by cleaning and recirculating the air.
exhausts clean air through a vertical outlet, directing exhaust toward the ceiling instead of the user.
reduces maintenance costs by eliminating smoke and dust before particles can settle on equipment and work surfaces.