Industrial Air Pollution Control
ESP MIST/FUME COLLECTORS — CEILING/MACHINE MOUNT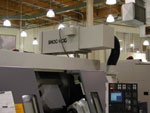 As the most effective Electrostatic Precipitator (ESP) Collector on the market, no other ESP unit can match the SG / SHN Series for efficiency, effectiveness and long-term cost savings for the collection of oil smoke and coolant mist. For more than 35 years, UAS has led the way in electrostatic precipitator technology.
What You Can't See CAN Hurt You!
Only electrostatic precipitation removes microscopic oil smoke and coolant mist particles that pose a serious hazard to employee health.
These units remove dangerous contaminants that can cause respiratory problems and create safety and maintenance concerns as particles settle on expensive machinery, work surfaces and finished products -- a situation that can cost you increased absenteeism, workers' compensation claims and OSHA compliance violations.
Many Options, Only One Real Choice
SHN/SG Mist Collectors are at work worldwide, capturing hazardous particles generated by milling, grinding, turning, cold heading and other industrial processes. Other benefits include:
Highest efficiency removal of the widest range of particle sizes
Easily cleaned, reusable ESP collection components eliminate the need for filter replacement and disposal
Low energy consumption
Less frequent maintenance is required as collected liquid coalesces and drains off aluminum ESP collection components
Maintains consistent airflow at all times
Collection of oils and coolants for reuse
Highly effective collection of both oil and water-based coolants
Flexible intake configurations for general area or source capture
Twenty-two different mist collection models -- including portable units -- to accommodate all of your application needs