Industrial Air Pollution Control
VERSATILE/PORTABLE CARTRIDGE DUST COLLECTORS — V SERIES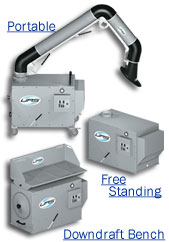 The new V Series cartridge dust collection system is specifically designed to capture the smoke, dust and powders that result from a variety of manufacturing operations. By capturing and removing contaminants at their source, the V Series minimizes the hazards that can result from improperly controlled airborne pollutants. The V Series also assists in preventing dust from migrating to areas with sensitive equipment or cross contamination to other processes.
Applications
The V Series is ideal for:
Metalworking
Buffing
Grinding
Polishing
Blending
Filling
Material Handling

Packaging
Screening
Weighing
Finishing
Sanding
Sawing
And more
Features

Available in three configurations Downdraft Bench (Model VB), Portable Unit with Swing Arm (Model VP) and a Free Standing System (Model VF)
Choice of two compact, low-profile sizes (750 or 1,500 CFM).
Installation is simple, requiring an electrical connection and a compressed air connection for the in-place cleaning option.
Available with a wide selection of high-efficiency filters including fire retardant, wide pleat, washable, Spun-Bond, PRFE and more.
Unique acoustic sound attenuation ensures quiet operation below 82dBA.
Pre-assembled system is ready to use.