Industrial Air Pollution Control
CARTRIDGE DUST COLLECTORS — CROSS VENTILATION
The Most Efficient, Quiet and Cost-Effective System for Cleaner Factory Air
When it comes to superior dust collection, there's no better choice than the MCB Series Cross Ventilation Cartridge Dust Collector. This completely self-contained system provides high-filtration efficiency, freedom from source capture obstructions, and easy maintenance. Plus, it offers versatile configurations - available as a single unit or in combination with a containment booth.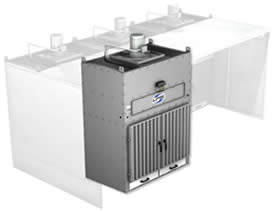 A Wide Range Of Applications


Ideal for applications where source capture arms are impractical, MCB units remove fine airborne dust resulting from a variety of finishing operations. Workers benefit from complete freedom of movement, excellent lighting and a clean breathing zone so they can easily perform any type of manufacturing process - from grinding, sanding and welding to abrasive blasting, batch mixing and powder coating.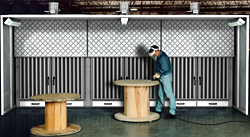 Improves Worker Productivity And Safety


Our MCB Series is designed with your employees in mind. Helping your factory comply with OSHA regulations, it offers:

The most efficient fume removal
The MCB unit creates cross-draft ventilation that eliminates hazardous contaminants before recirculating clean air. Plus, the MCB prevents fine dust from migrating to areas with sensitive electrical and mechanical equipment - reducing facility maintenance.

Freedom of movement
Since there are no obstructions from source captures, workers can perform their jobs without fume arms, hoods or other barriers that can prevent a safe environment.

The lowest sound levels
In addition to the industry's quietest environmental control booth, the MCB unit uses an enclosed pulse cleaning system that reduces sound levels up to 50% more than competitive models.



Reduces Service Time And Cost


Our MCB units also greatly reduce air cleaning costs. Here's why:

Easy installation and inspection
Requiring no duct work, fewer assembly modules and less electrical hookups and motors, the MCB unit is simple to install. Add, it requires no rear access - making inspection easy and optimizing floor space.

Fewer cartridge change-outs
Using advanced computer modeling, our engineers have developed an advanced cleaning system that extends cartridge filter life.

Reduced utility costs
A superior louver door design ensures optimal airflow across your workstation -translating into reduces system losses and energy requirements.