Industrial Air Pollution Control
CARTRIDGE DUST COLLECTORS — CEILING MOUNT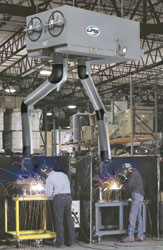 SCA/SCB ceiling mount cartridge dust collectors are designed for heavy-duty, in-plant cleaning of welding smoke, fumes, dusts and powders.
The SCA/SCB features:
High-efficiency filtration capable of trapping particles at up to 99.9% efficiency and 100% dust weight arrestance, to capture contaminants before they are inhaled by workers.
Automatic continuous pulse cleaning, which allows maintenance-free performance for longer periods of time.
Ruggedly-constructed, evenly-balanced, low-profile cabinets.
The SCA/SCB Series is available in two self-contained configurations.
Model SCA is available for in-plant applications where source capture is impractical. The SCA utilizes ambient (or airborne) collection to draw fumes, dust and other particulates from the workspace into the collector, cleans the air and recirculates this clean air back into the plant.
Model SCB is designed to capture airborne contaminants directly at the source. It has two lightweight, counterbalanced, 7', 10' or 14' swing arms that can be positioned at the source of the air pollution (e.g., welding stations) to capture the dust, smoke, etc., before it enters your workers' airstream and poses a danger to their health.